Using software certified by the US Postal Service (USPS), like the Coding Accuracy Support System (CASS) and NCOALink, companies can format and update their customers' addresses. To take the next step, mailers have access to additional USPS tools to improve address quality, including the Address Element Correction (AEC) and Address Change Service (ACS) programs.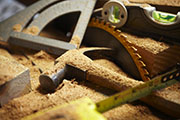 Mailers may have pieces that were delivered by the USPS, however the addresses don't generate a Delivery Point Validation (DPV) when run through CASS software. That means the mailer is foregoing postal discounts and is unable to take advantage of all the Full Service IMb benefits. The best USPS programs for this situation are AEC and AEC II.

AEC is best described as "CASS Plus". With input from the mailing industry, the USPS developed specialized programs that break down the elements of the address, and perform a series of evaluations and comparisons. Through these logarithms, the AEC software is able to add missing elements and correct many errors that commercial software can't resolve.

For the tougher addresses, mailers can request the AEC II service. Under this program, the addresses are sent to the local USPS delivery unit for resolution. The USPS is then able to tap into their proprietary "Delivery Force Knowledge" system. In other words, they ask the letter carriers responsible for that address for their help. That's right, a human being with actual knowledge of the problem address – not software – corrects the list.

For unidentified moves, mailers should consider the Address Change Service (ACS) program. With ACS, if an address on a mailpiece is incorrect, the USPS sends the mailer an electronic file with the change of address or other reasons for non-delivery. To participate, the mailer needs to enroll and then modify their address block or mailing label. When the modified pieces are processed by the USPS on the Postal Automation Redirection System (PARS) or Computerized Forwarding System, an ACS notification is generated. The notifications are forwarded to the National Customer Support Center, and then consolidated into a file for the mailer.

There are 4 different methods for implementing ACS:
Traditional ACS – the mailer uses a keyline in the address block to uniquely identify the mailpiece and address.
OneCode ACS – the mailer uses the Intelligent Mail Barcode (IMb) to uniquely identify the mailpiece.
Full Service ACS – provides the ACS service for free as a benefit for mail that qualifies for Full Service IMb discounts.
IMpb ACS – for parcel shippers, and uses the Intelligent Mail package barcode.
ACS is one of the approved methods for compliance with the USPS Move Update requirement. When used in conjunction with NCOALink, ACS provides mailers an additional opportunity to get the current address for their customers.

It's beneficial to both the mailer and the USPS if the correct address in on the mailpiece. Programs like ACS and AEC help everyone achieve the goal of getting mail to the right recipient at the right time.