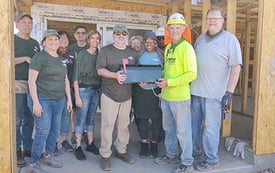 "No one is useless in this world who lightens the burden of it for anyone else." – Charles Dickens
Why are these people smiling?
Because they joined forces to help build a home at the National Postal Forum (NPF) in Phoenix last year. And these photos were taken after roofing in 90-degree weather!
We would love to have you join this team as we come together again for the Habitat Build Day at the NPF in Charlotte on Saturday, May 20, 2023.
+ Read More