"No one is useless in this world who lightens the burden of it for anyone else." – Charles Dickens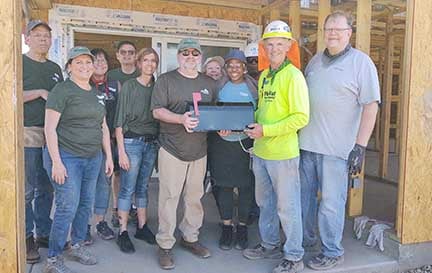 Why are these people smiling?
Because they joined forces to help build a home at the National Postal Forum (NPF) in Phoenix last year. And these photos were taken after roofing in 90-degree weather!
We would love to have you join this team as we come together again for the Habitat Build Day at the NPF in Charlotte on Saturday, May 20, 2023.
Founded in 1983, the Habitat for Humanity of the Charlotte Region has served over 3,500 families. When Habitat helps families build and improve homes, they build strength, stability and self-reliance. Communities, families and people are transformed.
Volunteering to help Habitat is transformative as well. Since 2016, The Berkshire Company has partnered with the NPF to sponsor the Habitat Build Day. It's become a part of who we are – as a company and as individuals. It's rewarding to work alongside Habitat family members and other volunteers, transforming dreams into realities.
Many of the smiling people in the photo above have been part of past NPF Habitat Build Days. As early as January, we start to receive emails about when the sign-up will be available.
With your support, we can make this year's event a success for everyone, especially the family who will live in the completed home. You don't need to have previous experience in construction or home repair. All that's required is a willingness to help build a place that someone can call "home".
As noted above, the Build Day is on Saturday, May 20, 2023. We will be at the job site from 8:00am to 4:00pm. Round-trip transportation to the site, breakfast, and lunch will be provided by the NPF.
You can register to volunteer on the NPF website. After registering for the conference, please remember to select "Optional Events". If you've already registered, you can edit your existing registration and add the event. There's a $25 non-refundable fee to participate, and all fees will be donated to Habitat.
Looking forward to seeing you in Charlotte!