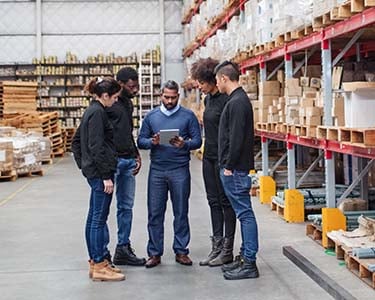 Before every play, a football team forms a huddle to call the next plan of action. In the best teams, players give feedback about what they're seeing on the field, so the quarterback has the best information possible to make the right decision. When they break, everyone knows the objective, and their role in helping achieve that objective.

In businesses, teams should follow a similar pattern. At the start of each day, or shift, everyone on the team should come together for a briefing. We call this "the daily huddle". It works for all types of organizations, and is especially helpful for print and mail operations.

During the daily huddle, the manager or supervisor reviews expected shift volumes, production issues, and service calls, along with any notes regarding customers, rush jobs, etc. All employees are encouraged to participate and share any information they may have obtained about an issue. One customer used the huddle to create a "theme for the day", empowering her team with a positive inspiration.

Daily huddle meeting notes concerning changes or issues should be written down, with the originals kept in a notebook. Employees absent from the huddle meetings due to illness or vacation can review the previous day's minutes upon their return. Managers should go through the minutes on a weekly basis, taking note of any trends, or problems that may require further analysis.

Huddles aren't only for production teams – they're for all teams – executives, projects and sales. They even work for remote teams. At The Berkshire Company, we use "GoToMeeting" for daily check-ins when we're working from home offices in different states. In addition to keeping us on the same page, it helps strengthen our connections across the miles.

When conducted correctly, a daily huddle will take about 5 to 10 minutes. By setting aside a few minutes each day, managers and supervisors can ensure that every employee receives the right information, and that the team is prepared for success.

Daily Huddle Checklist
Everyone is standing up.
Notes are taken (may want to consider rotating this function). Employees absent due to illness or vacation can review the previous day's minutes upon their return.
Attendance is recorded.
Review any issues from previous day (customer complaint, missed job, etc.).
Review any known equipment or system issues.
Share any major announcements – company, division or department.
Round table – each person states what they are working on that day.
Minutes posted in notebook.