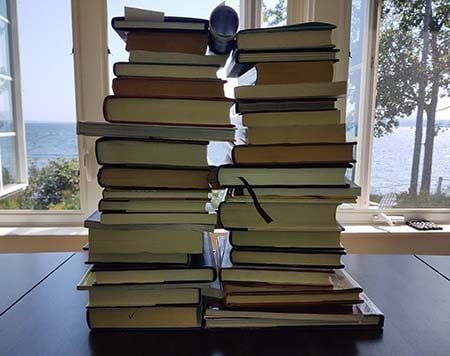 What I bought on my summer vacation last year.
"There are so many thousand good books, in so many languages, suited for so many different moods, and needs, and individuals, that all a man ought to do is to say a given number of books proved of interest and use to him personally at a given time under given conditions." – Theodore Roosevelt

It's easy to believe that all the information we need is available online. This week, I listened to a podcast on the implications of environmental regulations and the delivery world. I read an article on a website about the acquisitions and mergers taking place in the print-mail industry. Then I streamed a documentary about an American president.

I also read a book – a hardcover book. It was about being successful in the business of direct marketing. It was a book I almost skipped because I don't work in direct marketing. However, a lot of my clients do, so I read it. And I'm glad I did.

Many of the ideas shared can be applied to any business, and I've already started implementing some. The ideas in it go beyond the main subject matter, and has inspired me to make changes in my own company.

Books have been an integral part of my life for as long as I can remember. My parents were avid readers and my father made weekly trips to the Woburn Public Library. The day I was allowed to go with him, and get a library card, remains a treasured memory.

The subject matter of my nonfiction ranges from business management to philosophy to astronomy to history to woodworking to gardening to poetry. I try to include a steady diet of fiction as well. I freely admit to enjoying what I call "brain candy" – thrillers by authors like Higgins, Baldacci, Child and Ludlum. Good friends make sure I don't miss the classics, or new authors, so there are always discoveries waiting for me in my mailbox.

As a person who loves to read, I hope to continually find more books that are of use to me "personally at a given time under given conditions." And I enjoy sharing my thoughts on books that I discover on my search. In addition to the list of the "Books Mark has read" on this website, I also post on Goodreads, with ratings and "mini-reviews".

We have so many options when choosing how to read more books. A person can stay old school (like me) and read physical books. Many friends love to download books to their Kindle or mobile device. For others, audiobooks allow them to absorb ideas while driving, running or working out.

Business management, leadership and strategy books are important for personal and professional development. Reading isn't just for learning more about a specific subject. A well-written book on any topic helps us improve. We learn to think differently, to write creatively, and to explore the ever-expanding reservoir of knowledge being added to every day.

Many public libraries make it easy to reserve books online, and have access to e-books and audiobooks as well. Your local bookstore can order almost any book you want, so you can continue to support small businesses. If you don't have a nearby bookstore, consider buying through Bookshop.org, which fulfills orders through independent dealers. There are choices for every budget.

Consider setting aside time each day to read. I bookend (pun intended) my day with reading sessions immediately after breakfast and right before falling asleep. I take advantage of airline travel by carrying a book – and a back-up book – on every flight.

No matter how many books I read, I recognize that I still don't read enough. There are so many good authors and good volumes – classic and contemporary – waiting to be read. So, I will continue the journey I began decades ago, and search for my next book to read.

Hope to see you along the way.

PS – if you have a suggestion for a book, please add it in the comments section.