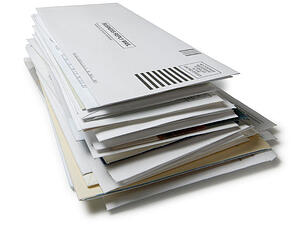 At Graph Expo in Chicago this week, I've had the opportunity to see some amazing technology – color inkjet printers producing output cheaper than black and white devices, software that integrates physical and digital messaging, and hundreds of finishing devices that will cut, perf, bind, insert and palletize your finished product.

The show demonstrates that print is still a vibrant market and method of communication. But if you're focused only on production speeds and cost-per-piece, instead of adding value, then you're headed in the wrong direction. You need to devote your attention to reviewing the entire process - not just the printed document.

Until recently, print was the preferred means of information distribution. Other methods – fax, diskettes, file transfer, and e-mail were considered alternatives to print, but paper was still the standard. Due to the proliferation of Internet usage and improvements in technology, print is now only one of many options – and there is no standard.

This doesn't mean it's time to panic, or to throw out those printers and inserters just yet. It does mean you have to widen your sphere of influence from one step in document production – like print/mail – to being involved with the entire document process.

For many operation managers, this requires moving out of the "comfort zone" of paper, hardware and scheduling, and into the worlds of marketing, databases and information technology. IT and marketing professionals need to learn about the new capabilities available in print/mail, and forge cross-departmental relationships. These new hybrid organizations will work together to develop comprehensive solutions to document processing challenges.

At The Berkshire Company, we call this approach Total Process Management. Not to be confused with TQM, Total Process Management isn't a methodology to define your procedures. Rather, it's a business philosophy that emphasizes an awareness of the entire process cycle – those elements that take place before activity begins, the activity itself, and the expected results of that activity.

For example, when mailing statements, you may focus on the pieces processed per hour. However, the entire cycle of the document should be considered. In a typical billing operation, the cycle includes:
How are addresses entered into the system?
How are addresses verified?
What application creates the print file?
How is the file prepared for the printers?
What marketing information is being included with the statement?
Which statements aren't printed, but sent digitally?
How is information passed to the inserters?
How is the paper managed before being run through the printers? After?
How does the inserter operator know what collateral to include with a job?
What are the quality checks at each phase?
Who is monitoring job status?
How many pieces are returned, and why?
When do the bills reach your customers?
When are the payments going to reach you?
How is information updated to the customer's file?
Too often, managers only concern themselves with the part of the process for which they are responsible. The IT folks make sure that applications are running. Marketing gurus develop eye-catching messages for the client. And the print/mail managers push stuff out the door as fast as possible. This shortsighted approach leads to inefficiencies and errors. Only by knowing all the steps of the process can you know the total cost – and more importantly – the total value of the operation.
Introducing this type of cultural change isn't easy, but it's critical to your company's success. Don't attempt this transformation all at once, but merge the components together gradually. Many people will balk at making drastic changes, especially if it means modifying established workflows.

So reconsider your workflow, and make sure you're developing a solution that provides the correct information to your customers, in the media they want, and with whatever additional messages you want to send. Leverage the new tools available to you, and take your first steps to achieve Total Process Management.