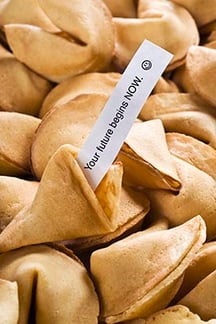 "Sorry, wrong cookie." – Fortune Cookie
Many Sunday nights in my house begin with a call to the Wok and Roll restaurant. I'm a creature of habit, and I bet the manager writes down "Kung-Pao Chicken" as soon as she sees my telephone number on the Caller ID.
At the end of each meal, I indulge in another favorite habit, opening my fortune cookie. While I don't believe that my future can be predicted by a random message placed in a mass-produced cookie, I still love those little notes.
After all, it's always nice to read, "Good news will be brought to you by mail." Or, "You are a traveler at heart. There will be many journeys." Even better, "Your present plans are going to succeed." Wow! How did they know I just mailed a proposal to a new client in another state?
I save a lot of the positive-themed slips. Some get taped to my desk, others put into my wallet and the rest in a little envelope. When I get stuck for an idea, or discouraged, I flip through my fortunes. These short affirmations help inspire me with new ideas, or remind me of past events. Soon, I'm back at work, with a better attitude and a renewed focus.
During a recent browsing through my collection, I noticed that a lot of the "fortunes" were very similar to theories raised in management books. The phrases in the cookies and the books are often vague, and open to many interpretations. Or misinterpretations. And most of the ideas aren't original, but are new versions of older statements.
The more I looked at the messages, I started to see some common themes about potential, hard work, courtesy and outlook. So, here are some of my favorite fortunes, with a little organization and some additional comments.
Release Your Potential
Do not underestimate yourself. Human beings have unlimited potential.
The greatest of all mistakes is to do nothing, because you think you can do only a little.
Don't be afraid to take that big step.
The beginning is half of every action.
Ideas you believe as absurd ultimately lead to success!
An exciting opportunity lies ahead if you are not timid.
Too often, we're so convinced of our inability to achieve a goal or fulfill our wishes, that we never start a project. Goals can only be reached if you begin the attempt. Embrace your wildest aspiration or crazy idea by taking the first step. Start working on your dreams today.
Hard Work is Essential to Success
Through greater effort and hard work a precious dream comes true.
Minor aches today are likely to pay off tomorrow.
Your ability to accomplish tasks will follow with success.
The odds of hitting a target go up dramatically when you aim at it.
Have a vision. Be demanding.
Don't pursue happiness – create it.
After you take the first step towards your goal, there will be a second step. And a third, and maybe a thousand. Or even more. Let your desires fuel your actions. You may be tired at the end, but you'll be successful. Your willingness to work hard is what makes you special.
How You Treat Others Reveals Who You Are
Listen to the wisdom of the old.
Courtesy costs nothing.
Even a small gift could mean so much to someone today.
Don't forget to do good deeds as you accumulate wealth.
Your reputation is your wealth.
We aren't alone in this world. You don't have to look hard for people with experiences they're willing to share with you. There are people around us who've helped us, and there are people who need our help. Share your successes, even the small ones.
Positive Results Require a Positive Outlook
Listen to yourself more often.
Doing what you like is freedom. Liking what you do is happiness.
This is really a lovely day. Congratulations!
Just be yourself; you are wonderful.
It's easy for anyone to become discouraged now and then. Give yourself a pat on the back for your latest accomplishment. Celebrate your small wins and savor your victories. Become your own cheerleader.
Perhaps fortune cookies are only filled with platitudes and clichés. But every cliché has an ounce of truth in it. That ounce of truth can lead to a greater measure of success when properly applied to your current situation. Especially when you receive a little slip of paper with this bit of hope:
The best times of your life have not yet been lived.