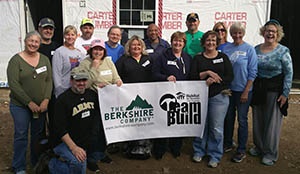 Last week was one of the largest National Postal Forums (NPF) in a decade, with more than 4,400 people attending the show over 4 days. With the theme of "Make Informed Connections", the NPF was filled with opportunities for vendors to connect with customers, mailers to connect with postal executives, and industry professionals to connect with each other.

The fast pace of the conference was consistent with Postmaster General Megan Brennan's keynote address. In her remarks, PMG Brennan reminded attendees that the pace of change is only speeding up, fueled by new technologies. The United States Postal Service (USPS) and mailers must demonstrate their resilience by not only adapting, but exploiting new communication platforms. In 2017, that means tightening the connection between physical and digital with the twin pillars of Informed Delivery and Informed Visibility.

The keynote may have sounded a bit like a commercial for these new services, but the message was well-received by the audience. Every session on the topics was packed – and some had to be repeated. While still in the emerging stages, both of these programs are already successes. Jim Cochrane, the USPS Chief Customer and Marketing Officer, laid out improvements that will be available in the coming months. However, when it comes to transforming mail into a physical and tangible connection with people – the future is now.

As in the past, attendees took advantage of the educational sessions. Whether it was 8:00 in the morning, or the last session on the last day, people actively participated in the classes. As both an instructor and a student, audience involvement is so important to the success of the lesson.

The trade show felt smaller, but busier. Vendors no longer ship large pieces of equipment, but have virtual displays of their products and services at work. There were several new vendors with new solutions, and the Exhibitors' Reception on Tuesday evening drew a large crowd.

The Berkshire Company doesn't endorse any vendor or product, but we still get excited about innovative approaches to old problems. This year, friends and colleagues kept telling me, "You have to get over to Booth 1602." I'm glad I listened. The folks from Notta Systems gave me an overview of their sorting solution - Mailroom Assistant. Using cameras, OCR technology, differential weighing scales, and mobile, interchangeable sort bins, the system solves multiple challenges for inbound mail centers. The sales representatives kindly answered my barrage of questions, and allowed me to crawl around the equipment. I look forward to touring one of their clients' operations soon.

Perhaps the most rewarding day of the NPF took place before the conference officially began. On Saturday, May 20, 2017, volunteers from around the country pitched in to help the Habitat for Humanity of the Chesapeake. In one day, we installed insulation in two row houses. Mail center managers, corporate executives, USPS officials and the president of one of the national postal unions worked side-by-side sharing laughs along with the workload. The smiles and support through the hours of hard work added to the wonderful feeling of helping a family move into a new home.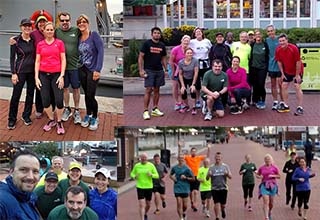 A new tradition started at this year's NPF was the Morning Fun Run. Each day, a group of runners met up to enjoy 3.1 miles of Baltimore's Inner Harbor. People kept together, some walked, and some ran extra distances. It was all about mutual support, enjoyment and making new friends. Even rain couldn't keep these folks from having a good time!
Overall, a successful conference for the USPS, vendors and attendees. We're still unpacking our notes and preparing follow-up discussions and articles. We also have to start planning and preparing – as NPF 2018 in San Antonio is less than a year away. See you there!