What are your plans for upcoming National Postal Forum (NPF), May 21 – 24, 2017 in Baltimore, MD?

The theme for this year's NPF is "Making Informed Connections". That includes networking with fellow mail professionals, vendors, and officials from the U.S. Postal Service. We're especially looking forward to Postmaster General Megan Brennan's keynote on Monday morning and hearing her take on the ratemaking review and the most recent attempt at postal reform legislation.

For The Berkshire Company, the NPF will start on Saturday, as we'll be sponsoring the crew at the Habitat for Humanity build. Volunteers will be working on multiple homes as part of Habitat's Mt. Winan project. (Note: If you didn't pre-register, but still want to participate, contact Mark directly).

Are you a runner? Before classes on Sunday – and every other morning – we'll be meeting up in front of the Hilton at 5:45AM (rain or shine) for a run. We've mapped out a 5K (3.1 miles) run along the waterfront. After crossing a few streets, we'll follow the trail along the Inner Harbor. We'll keep a nice easy pace, enjoy the sights and have some fun.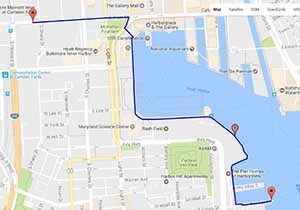 Based on direct mail pieces received lately, there will be new and returning vendors in the exhibit hall. We've already set up meetings with several software, hardware and service providers. The schedule will be tight, but a good plan will help us gather the information we need.

This year, Mark Fallon, President of The Berkshire Company, will be presenting 5 classes:
Sunday, Period 4 – Orientation

Monday, Period 7 – "Boot Camp for Mail Center Managers (1)
Monday, Period 10 – "Outsourcing – Separating Myths from Realities"
Tuesday, Period 11 – "Boot Camp for Mail Center Managers (2)
Wednesday, Period 17 – "Finding the Answer"
Whether it's at the Habitat Build, the classroom or running on the waterfront – we're looking forward to seeing you at NPF 2017!