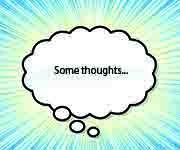 Last month, we posted the results of our quality control survey. While none of the responses were surprising, the patterns and differences were thought provoking. The areas that are most notable are:
Overall low error rates
Difference in error rates between in-plant operations and vendors
Inconsistency in tracking errors
Our industry demands high quality, and most operations are delivering. All error rates were low, less than 1%. The reliability of equipment and software, the use of cameras and barcodes, and the implementation of quality control teams combined to create better results.

Of course, we need to get better. Any financial services firm or healthcare company understand the strict privacy laws protecting consumers. Billing operations depend on cash flow, which depends on bills being delivered properly. The goal has to remain 100% - even though we know we aren't perfect.

The higher error rate reported for vendors didn't surprise me. Not that I think vendors don't have good quality programs, they do. But companies are better at monitoring vendors for errors than they are at monitoring internal operations. Vendors are usually held to tight service level agreements (SLAs), with penalties for any errors.

Companies should hold internal operations to the same high standards. And the managers who run production shops should welcome the scrutiny. If you aren't tracking errors and uncovering the root causes, you can't improve the department. Good metrics – including errors – mean good information.

Which leads to the conversation about inconsistency in reporting errors. Some companies reported zero errors. It's hard to believe that absolutely no mistakes have been made. Others participants reported ranges of errors, or used the qualifier "around". The best had exact numbers. My favorite – 5,294 errors reported. The exactness of the number indicates good measurement practices.

Without meaningful metrics, an operation can't demonstrate the impact of improvements. Errors and error rate should be posted in the work area. Quarterly reviews – internal and external – should include a discussion on error rates and the reasons for any changes.

We want to thank the companies that participated in this year's survey. We received some feedback to help us improve future surveys, and we'll implement those next year.
If there's another area of the industry you think would make a good survey, let us know in the comments section, or complete our contact form.