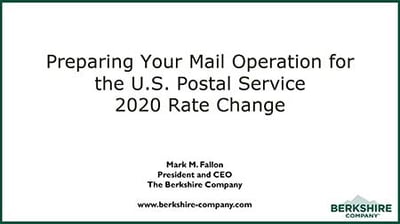 On Sunday, January 26, 2020, the new US Postal Service (USPS) postage rates and rules go into effect, so mailers need to act now to be properly prepared. For most mailers, the first day of mailing under the new rates will be Monday, January 27, 2020.

This rate case was announced on October 9, 2019. Set to go into effect on January 26, 2020, the new rates represent about a 1.9% increase over the current prices for mailing, or "Market Dominant" products and about a 4% increases for shipping, or "competitive" products.

This price increase is the first increase approved by a Board of Governors with a full quorum in a decade. It also comes in the shadow of the pending ratemaking changes proposed by the Postal Regulatory Commission – or PRC.

The current USPS price list – Notice 123 – is available on Postal Explorer as either an HTML or PDF document. Until January 26, the new rates are available for download as either an Excel or CSV file. The Excel file has a tab for each rate class, complete with Zone and weight tables.

Even with the increase, postage rates are a great deal. The USPS retail rates for letter mail remain lower than our trading partners – including the countries that have privatized their posts. Take a look at the price for one-ounce stamps (based on exchange rates in effect on January 12, 2020):

US $0.55

Australia $0.76

Japan $0.77

Canada $0.80

Germany $0.89

Great Britain $0.91

France $1.29
To assist mailers with the postage rate changes, The Berkshire Company has published a new eBook, "Preparing Your Mail Operation for the U.S. Postal Service 2020 Rate Change". This free resource, which includes an implementation checklist, is designed to help managers ensure a successful transition to the new postal rates.

We also published a recording of our webinar - Getting Ready for the 2020 Postal Rate Changes. This webinar provided additional detail on the changes, including new forms and mailing promotions.