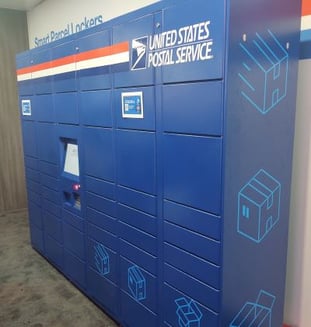 There was more than one winner at the National Postal Forum (NPF) in Charlotte a few weeks ago. In fact, it was evident that all 3,500 attendees had a successful conference in the shadow of the NASCAR Hall of Fame. Whether in classes, on the trade show floor, or networking at events – there were opportunities for everyone.
The keynote address from Postmaster General (PMG) DeJoy provided an update on the Delivering for America plan. PMG DeJoy stressed his commitment to continual "dramatic change" at the US Postal Service (USPS). Videos featuring key leadership emphasized the progress made so far, with the need for even more work to be done. DeJoy stated the new network will take "the Postal Service from the leader in the last mile, to the leader in the last 150 miles."
On the trade show floor, the USPS unveiled the new Smart Parcel Lockers. The lockers are being deployed based on need determined by data. The USPS looked at stolen packages, failed first deliveries and available space in local post offices. As more lockers are rolled out, the USPS may become a better alternative for home deliveries.
The rest of the trade show included many returning vendors, and a lot of new offerings. As our industry involves more software than equipment, there were more large display screens than machines on the floor.
We encourage our clients to visit at least 3 vendors they've never talked to before. Our team follows that advice too, and found solutions we didn't know about. Another reason why in-person events are still a crucial part of our education.
Consistent with past conferences, attendees travelled to the NPF to learn. That included industry veterans and first-time attendees. It's not just the USPS that's changing, it's how we create, print and process billions of pieces of mail every year. Learning from successful leaders, and listening to effective case studies, is a path we should all share.
The Berkshire Company team was especially excited to be part of the new Mail Center Manager Certificate program. We partnered with the NPF to bring 5 new classes with many new instructors. From a class beginning at 8:00 am through the end of the day at 4:45pm, over 100 people filled the room. More importantly, they were engaged. Not just by asking questions to the presenters, but by sharing insights and offering answers to their fellow students.
We'd like to publicly thank the team of people who made the Certificate program possible:
Neal Fedderman, CarMax
Tammy Golden, State of Tennessee
Kenneth Greene, College of Charleston
Karen Holliday, Innovairre
Dr. Sean Joyce, Omega Consultants
Tom Leon, Wellmark Blue Cross and Blue Shield
Mike Lincoln, State of Colorado
Alexis Nicoletta, Corporate Image
Lois Ritarossi, High Rock Strategies
And of course, another big THANK YOU! To the volunteers who gave up their Saturday for the Habitat Build. You make it possible to help us help others.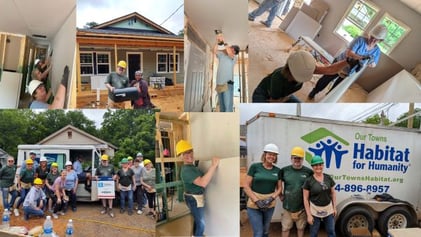 And we're not finished racing yet! Because next year, the NPF returns to Indianapolis!