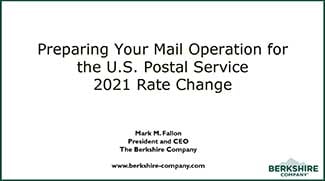 On Sunday, January 24, 2021, the new US Postal Service (USPS) postage rates and rules go into effect. Mailers mailers have less than a week to complete their final preparations.

This may be the last increase under the ratemaking rules established under the Postal Accountability and Enhancement Act (PAEA) of 2006. Under the PAEA, the rates for Market Dominant products – First-Class Mail, USPS Marketing Mail, Periodicals, etc. – were limited by the Consumer Price Index (CPI).

After completing their 10-year review, the Postal Regulatory Commission (PRC) modified the ratemaking rules. On November 30, 2020, the PRC issued Order No. 5763 – Order Adopting Final Rules for the System of Regulating Rates and Classes for Market Dominant Products. Under the new system, the USPS will have additional rate authority to raise rates. The factors include a combination of delivery density and retirement-related expenses. The rules went into effect on January 15, 2021 and may be used by the USPS to raise rates above CPI.

There are currently four legal appeals on the PRC order, including one by the USPS. Industry advocates claim that the PRC overstepped its authority, while the USPS is appealing the narrow scope of the order. Until the courts issue a ruling, the order remains in effect.

The current USPS price list – Notice 123 – is available on Postal Explorer as either an HTML or PDF document. Until January 24, the new rates are available for download as either an Excel or PDF file. The Excel file has a tab for each rate class, complete with Zone and weight tables.

Even with the increase, postage rates are a great deal. The USPS retail rates for letter mail remain lower than our trading partners – including the countries that have privatized their posts. This is the current prices for one-ounce stamps (based on exchange rates in effect on January 17, 2020):
US $0.55
Canada $0.72
Japan $0.87
Australia $0.91
Germany $0.97
Great Britain $1.16
France $1.55


To assist mailers with the postage rate changes, The Berkshire Company has updated our eBook, "Preparing Your Mail Operation for the U.S. Postal Service 2021 Rate Change". This free resource, which includes an implementation checklist, is designed to help managers ensure a successful transition to the new postal rates.

We also published a recording of our webinar Preparing for the 2021 Postal Rate Changes. This webinar provided additional detail on the changes, including new forms and mailing promotions.