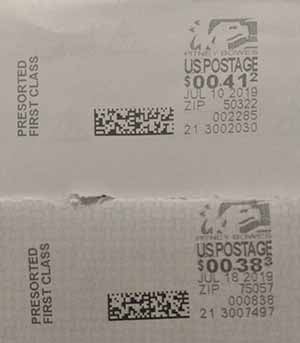 When I started as a mail clerk in the early 1980s, postage meters were clumsy mechanical devices. We'd use a fan scale to determine postage, and then turn dials by hand to set the amount. For postage refills, I'd pack the meter into a plastic case, and lug it to the post office .With a check in hand, wait in line for a window clerk, who would break the lead inspection seal, reset the meter, attach a new seal, and hand it back.

I was a mail center supervisor when "postage by phone" refills were announced, and scales were integrated with the meters. Several years later, electronic information-based indicia (IBI) meters became mandatory. Meters were then connected to the internet, allowing for remote monitoring and management. Instead of static slugs, users could add digital messages using their meters.

About this same time, PC Postage products were introduced. Users could set up an account with an authorized company, and print "stamps" at their desktop. The offering was expanded to printing shipping labels with tracking capabilities. For home offices and small companies, PC Postage is an economical alternative to renting a meter.

Using standardized envelopes with double windows, service providers often electronically merge customer files into a single print stream. Utilizing permit imprints instead of meters, operations are able to eliminate a potential jam or breakdown in the process. Postage is tracked and charged back at the piece level via the information in job files.

Similarly, presort providers can use the information in the intelligent mail barcode (IMb) to track individual pieces and postage from customers. With proper authorization, a presort company can combine multiple permit mailings for presentation to the US Postal Service (USPS).

Postage meters may not be headed for extinction, but their use is in steady decline. Old technology is almost always replaced by new technology. With some changes – systematically and regulatory – postage meters could remain a vibrant part of the mailing process.

Using the data in job information files, meters are already being used to add additional information to the envelope. It could be a postal endorsement, a message, or an image. Inkjet printers are improving, expanding the options for what can be displayed. Imagine a meter indicium that looks like a stamp? One that changes envelope to envelope?

While technologically feasible, this would require an overhaul of the Domestic Mail Manual and the numerous sections dealing with meters. The most troublesome rules are those requiring that the meter stamp or indicium must show the name of the licensing post office and the date. These outdated requirements ignore that all of that information is included in the 2-dimensional barcode created by IBI meters.

One of the arguments for the transition to IBI meters was that they would help reduce meter fraud. Scanners and computers validate the indicia, not human eyes. Which means that the printed information about the post office and date – which isn't required for PC Postage or permits – isn't needed. Which means that what is printed as the meter indicia should be reimagined.

The USPS has introduced new products like Informed Delivery and promotions that use QR codes, color print and emerging and advanced technology. The purpose is to enhance the value of the mail. There's another solution that's available to improve the look and feel of a mailpiece. And it's right on the face of the envelope.