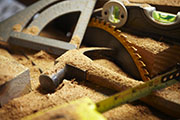 Software is everywhere in the print and mail industry business – from file formatting to address management to piece-level tracking. Like the rest of the business world, our industry relies on software packages to help us in our daily jobs.
Software alone is not a solution to a problem, regardless of the ads you may read, or sales pitches you hear. Software is a tool to help us be more efficient. To be successful, you need to know how to use those tools effectively.

For years, one of my favorite TV shows was "The New Yankee Workshop" with Norm Abrams. For the uninitiated, the PBS series featured woodworking projects. Some projects were simple, like a bookcase or shelving unit; others were more complicated, like a china cabinet with built-in lighting.

A master carpenter who gained fame on the "This Old House" series, Norm guided the viewer through the projects step by step. His calm voice and manner offered assurance to woodworkers of all skill levels. And his collection of flannel shirts was impressive. Best of all, he shared the show spotlight with the true stars of the show – the power tools.

Ah, the power tools. The new miter saw with dual laser guides for precision cuts. The cabinet-sized sander with three foot belts to smooth stock in a single pass. And don't forget the new plunge router with special mortising jig. Yes, if only I had those power tools. Then I could make that stereo cabinet out of bird's eye maple with the false front drawers.

Or could I? I'm only a moderately skilled carpenter with very little training. My workshop is located in a small section of the garage with little room for expansion. And with a hectic schedule, I can't dedicate the time to a complicated project. I guess I better stick to the small stuff like tables, shelves and display cases. Maybe a Shaker style clock.

But I still want the tools. And I often try to rationalize why I should buy them. Won't the shelf edges look cleaner with crisp edges? Won't the bookcases look better if I put a rabbet along the bottom edge? Won't my buddies be impressed when I show off the latest piece of equipment that I've crammed into the shop?

The answer to each of these questions is probably, "Yes." But does that make the decisions to buy these tools the right one? No.

At the beginning of each show, Norm gives the viewer a safety briefing. He stresses that you should understand how to properly use power tools. Without the right training, these tools can cause serious damage – to your project as well as to yourself.

The same is true for software. If not used properly, software can damage data and print files. If the operators aren't trained properly, the information provided by the system may be worthless. And while you may not slice off a finger, misusing software could damage your reputation. Or worse, cause you to lose clients. Or your job.

Before buying a power tool, it's important to do research. Without the right education, I won't know which model to buy. Without the right number of projects, the equipment will be underutilized. You need to know which tools come with which attachments. Your electrical system will have to have enough power to meet the electrical requirements for the tool. And of course, it's important to know what's a good price. Just like software.

You need to educate yourself on the different software options available. Determine what add-ons are needed to handle your needs. Ensure that the software will work on your company's IT platform and security requirements. Find out how much server space and bandwidth are needed for the software to run efficiently. And shop around for pricing options from both competitors and resellers. Do your homework.

Also, those power tools will only help build the piece. Then, the piece will need to be finished, probably sanded, stained and varnished, requiring time and careful planning. Without that planning, the finished piece could look bad regardless of the tools I used.

And you need to properly plan how new software will impact your existing operation. You'll need to modify your current procedures to maximize the benefit of the new software. Look at the whole process from beginning to end for opportunities for improvement.

Be sure to properly plan the deployment of new software. Allow ample time for thorough testing before moving it to production. Create a contingency plan to "back out" (or uninstall) the software if there's a critical problem in the production environment. Don't rush and be prepared.

To be successful with software, you need to ask yourself certain questions:
Does the software truly address my needs?
Is the software scalable to my organization?
What training comes with the software?
Can I adjust my process to effectively use the software?
Will the software help produce savings that make up for its cost?
Am I knowledgeable enough to choose the right software for my organization?
The last question is probably the most important one. Education and training are important before you buy anything. Seek out experts like Norm who are willing to share their knowledge and experience. Choose the right tool to help you build your solution.
And remember, you don't need a Porter Cable power plate joiner if you're only making one Shaker style clock. But boy, does it look good in my shop.