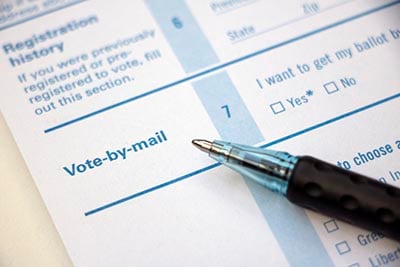 With the current pandemic, there's been a renewed call for more states to offer voting by mail. Not as an exception to voting in person, but as the preferred method for elections. There are already five states that conduct elections entirely by mail: Colorado, Hawaii, Oregon, Washington and Utah. 21 other states allow voting by mail for certain elections. Expansion of voting by mail seems to be a natural progression.

Election authorities must take action to ensure integrity and visibility throughout the process. That includes a high-integrity production system for printing and mailing, plus using the US Postal Service (USPS) Informed Platform for mailing and receiving ballots.

Whether the mailing is produced by an in-plant operation or an external service provider, ballots must be processed using a high-integrity production system. There are different methods of implementing a high-integrity process. Common characteristics of the best systems include:
Job Information Files – these files contain information at the piece and job level, and may include machine instructions and Mail.dat file details
Barcodes – whether linear or matrix barcodes, they include unique identifying information about each piece
Cameras – the latest cameras can be used to track pieces at every step – printers, inserters and hand-fulfillment
Post-presort software – reconciling actual production data to postal documentation, including the Mail.dat file
Closed-loop tracking systems – production software that tracks every piece in every job, from data-to-print-to-processing-to-post
With these systems, every step is recorded. Election authorities would have proof that a ballot was printed and mailed to every voter. The information can be stored as a file in the event of any challenges or investigations into an election.

The next step is to track every piece through the USPS Informed Visibility Mail Tracking & Reporting (IV®-MTR) platform. Informed Visibility is the USPS source for near real-time mail tracking information. When using the Full-Service Intelligent Mail Barcode (IMb), mailers create an information file – Mail.dat – that is uploaded to the USPS servers. The USPS matches the scans of every pallet, tray and mailpiece back to the Mail.dat files.

The USPS allows mailers to retrieve tracking data from the IV-MTR website as a one-time query or recurring data feed. By using a recurring data feed, election officials can track the ballots as they're processed. If there are no scans for more than a day, officials can contact the USPS to track down what's happening. This will prevent delays due to ballots being put aside in a processing facility.

The IV-MTR platform can also be used to track the votes being returned. Every return envelope – whether Courtesy Reply Mail (voter adds a stamp) or Business Reply Mail (no stamp required) – should include an IMb. Through IV-MTR, the USPS can obtain and share data from the initial scan at the receiving post office through delivery to the election authority.

Voters will be notified that their ballots are being delivered through Informed Delivery – the USPS platform for providing recipients a digital preview of the letters they'll receive that day. Each morning, the customer receives an email with scans of the envelopes, or they can log on to their USPS.com account to view the images. Currently, there are over 22 million Informed Delivery users across 18 million households. That means 11% of adults and 14% of households are covered by Informed Delivery.

Both the Informed Visibility and Informed Delivery applications are provided by the USPS at no extra charge to either the mailer or the recipient.

It's highly probable that more states will move more elections to vote by mail. Trust in the system requires documented procedures, piece-level tracking, and transparency. Through the use of high-integrity production systems, Informed Visibility and Informed Delivery, government officials can conduct efficient and secure elections.