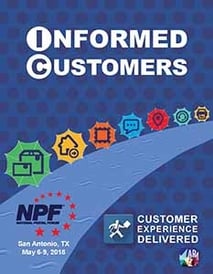 There's still snow on the ground in my backyard, but I'm thinking about the warm weather down in Texas. That's because I just received my catalog for the 2018 National Postal Forum (NPF) – May 6 – 9, 2018 in beautiful San Antonio.

The theme of "Informed Customers" refers to both the business mailers attending the NPF and the people they serve. The rise in popularity of Informed Delivery, plus the recent launch of Informed Visibility, demonstrates the combined power of physical mail and digital data. Mailing professionals will share their successes and ideas for the future in roundtable discussions, panel presentations, and workshops.

The most anticipated moment of the NPF is when Postmaster General (PMG) Megan Brennan delivers the keynote address to the attendees on Monday morning. It will be interesting to hear her take on the slow start to 2018, the absence of a presidentially-appointed Board of Governors, and the lack of congressional action to fix the problem. PMG Brennan has been straightforward with mailers in the past, and we expect the same in San Antonio. We also look forward to the opportunity to ask direct questions to her and her leadership team. And receive direct answers.

Mark Fallon, The Berkshire Company's president, has been an instructor at NPF for more than 22 years, delivering over 100 classes. This year, he'll be co-leading the orientation workshop and presenting "Boot Camp for Mail Center Managers".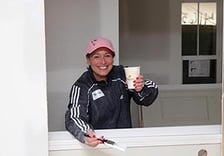 As we have in the past, The Berkshire Company will be sponsoring the Habitat for Humanity build on Saturday. We're working with the staff at NPF, Habitat for Humanity, and members of the San Antonio Postal Customer Council to coordinate all the activities for the project on Saturday. With your support, we can make this year's event a success for everyone, especially the family who will live in the completed home.

For the last 2 years, we've had a sold-out crowd for this event. Volunteers from all over the country have come together to help paint, hang doors, and install insulation. The only thing more impressive than their hard work were their amazing smiles.

You can pre-register to volunteer on the NPF website. After registering for the conference, please remember to select "Networking Events". If you've already registered, you can edit your existing registration and add the event. Round-trip transportation and lunch will be provided by the NPF. There's a $25 non-refundable fee to participate, and all fees collected will be donated to Habitat for Humanity of San Antonio.

We can't wait to see you in Texas!